I adopted a dog. I don't think that comes as a big surprise to most the people that read my blog about volunteering at the dog shelter. He's a three (ish) year old poodle and his name is Messi. He's absolutely lovely.
As many know, I've had full-on doggie fever for the last 2-3 years. (In the way that most women get baby fever, I get doggie fever.) I have intentionally delayed my newest addition because the time never felt right. Now it definitely feels right. I'm in a place (physically, mentally, emotionally, financially) to care for a new pup and I have worked hard to get here. It's definitely the right time.
Probably about 4 years ago, I saw a picture of Rihanna and her newest adoption on People.com. Since that day, I knew that was my next dog. I just knew it. (Technically hers is a Maltipoo, but eh.)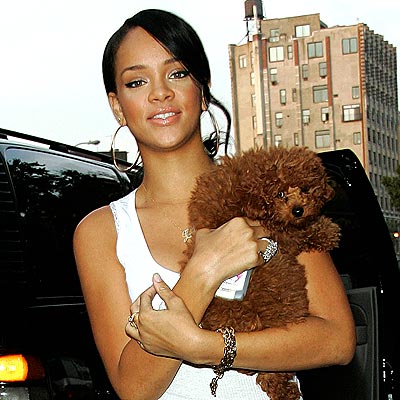 Photo credit: People Magazine.
Four weeks ago I first volunteered at the animal shelter. Amidst 40+ dogs the first dog I remember seeing is Messi. This fluffy, joyful, bouncy poodle was running towards me and begging to be loved. I tried to not adopt him. Really I did. But he was already my dog by then. I'm not saying he chose me in the way that Charlie chose me 8 years ago, I think we just chose each other simultaneously. It was love.
Thus far, Charlie is actually doing very well with him. The second day I think his ego got a little bruised but since then they seem to be becoming good friends. I actually think this dog has the potential to be as smart as Charles. He's quick on the pick up and extremely attentive. (And fully potty trained!)
He speaks Korean which is hysterical to me. We are working with each other to see just how much Korean both of us actually know. Last night he started chewing on my bottle cap and as soon as I said "주세요", he spit it out in my hand. Elizabeth and I about died laughing. I have a slight suspicion that he knows more Korean than I do.
I think his name is just perfect for him. He was named after the extremely famous soccer player, Lionel Messi. The American's probably don't know who that is (I wouldn't have either if I wasn't in Korea) but he's kind of a big deal. I even have three students named Messi.
His last family gave him up because he has a slight cough, similar to kennel cough. The first night I had him he coughed the whole night but since then he's been just fine. He really only coughs when he first wakes up and when I grab the leash. I think it's definitely excitement related. Like, doggie asthma.
The day I got him from the shelter he had been half shaved. Head and bum, but nothing in between. He was an adorable mess.
Today, we went to the vet to get his rabies vaccination, heartworm meds, and we got his hair did… Well, kind of. I had him shaved.
Hahaha. I don't intend to keep his fur like this at.all. He just had too much wrong with all that furry mess to salvage it. This way he at least looks presentable, if not entirely too skinny. I'm working on that. Don't you worry.